Music

When you open the Music tag and the Lyrics tag in separate windows you will be able to listen to the music while reading the lyrics.

Composer's Version


Act 1

Act 2
1. Overture / There Was A Man [ full ]
mp3
12. Hold On
mp3

2. Just Say You Love Me

mp3
13. Willy!
mp3
3. What's Worth Fighting For?
mp3
14. Give Til It Hurts
mp3
4. Until That Day
mp3
15. A Man Left With Nothing
mp3
5. Martha's Rebellion
mp3
16. The Best Moment Of Your Life
mp3
6. Missing You
mp3
17. Anywhere But Alone
mp3
7. I Have My Dreams
mp3
18. How to say the words
mp3
8. Worst Moment Of My Life
mp3
19. No Tomorrow
mp3
9. Dancing With Me
mp3
20. When Innocence Dies
mp3
10. Revenge... Avenge!
mp3
21. String 'Em Up!
mp3
11. Finding My Way Home
mp3
22. No Tomorrow
mp3
23. There Was A Man Reprise [full]
mp3
All material is copyrighted and may not be reproduced, performed, broadcasted and all the rest without prior written consent.
Dulathemusical.com © 2014 All rights reserved.


DULA
A NEW MUSICAL
Book by Paul Elliott
Music by
Jeanie Cunningham
Lyrics by
Elliott & Cunningham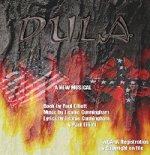 COMPOSER'S VERSION
Vocalist:
Jeanie Cunningham
Piano: Eliot Douglass & Jeanie Cunningham
Arrangements & Orchestrations:
Les Hurdle
Orchestration:
Jeanie Cunningham / "Martha's Rebellion"
Overture:
Milton Nelson