Jeanie "JaeCie" Cunningham
Take rhythm, rock and blues and add a splash of soul.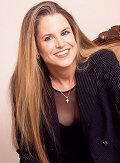 Somewhere in the mix, you'll find the music of "JaeCie". Working on and offstage with such greats as Ike & Tina Turner, Lionel Ritchie and David Crosby, Jeanie also has written and recorded songs as a solo artist and as a commissioned songwriter for major corporations, (Toshiba, Microsoft, Epson…), as well as for the country of Aruba.
With the release of 7 cds and 2 performance DVDs, Jeanie continues to move forward in her musical pursuits with the new musical, DULA, from the book by playwright Paul Elliott for which she wrote 23 songs. Her take on writing the songs for Dula? " It was truly the most difficult musical challenge in my career so far and also the most rewarding; it's an incredibly painstaking process writing for characters, 'in' character while keeping an eye toward memorable melodies & lyrics and interfacing with the script and playwright...it's a lot of work, but...I can't wait to do it again!!"
Jeanie is also producing and starring in a TV show, "The Composers' Corner", where "we interview creators of music, dissect songs, explore new gadgets and techniques and give viewers a window into the world of music creation". The first 7 episodes received critical acclaim in her native Los Angeles, and Jeanie hopes that the next 7 episodes will reach a much wider audience through PBS.
More information on Jeanie's work and music can be found at Wikipedia
Dulathemusical.com © 2014 All rights reserved.